At St Mary's we encourage regular reading and most importantly, the love of reading.
We are a partner school for the Orgill English Hub.
The importance of reading and phonics at St Mary's CE School
Reading development is seen as a partnership between home and school.
Our aim is that our children will develop a love for reading. We believe reading is a vital skill that will support children's learning across the whole curriculum. At St.Mary's, we will ensure that our children are taught to read with fluency, accuracy and understanding through a variety of discreet and cross-curricular learning opportunities. Above all, we want children in our school to become enthusiastic, independent and reflective readers who enjoy reading and read for pleasure. The development of reading cannot be seen in isolation from writing, speaking and listening; the best readers are the best writers.
We teach reading from Foundation Stage to Year 6. This can be in the form of one-to-one reading with an adult, reading groups linked to phonics assessments, shared reading, whole-class guiding reading*, cross-curricular opportunities and independent reading.
St.Mary's reading curriculum has three strands:
Phonics, decoding and word reading focusing on accuracy and fluency,
Comprehension, including vocabulary,
Encouraging Reading for Pleasure and deepening engagement of children in reading
In EYFS and Key Stage 1, there is a synthetic phonics programme in place which is taught systematically using Read Write Inc. We also use a range of other reading strategies to broaden children's understanding, interest and enjoyment of reading. In Key Stage 2, as their reading develops, children are encouraged to read from a wide range of fiction and non-fiction books.
A love of reading is promoted through additional activities including author and poet visits; book events; an annual book day; paired reading; shared reading with younger children and parental reading workshops.
Parents are encouraged to support reading at home and children read daily. Children in EYFS and KS1 take home a phonically decodable book matched to their learning in Phonics (Read Write Inc book bag books including fiction and non-fiction). Each child in school has an individual reading record where reading is recorded and tracked and is a means of communicating development to the child, parent and teacher. Children are also encouraged to choose books from the shared reading shelves for use during reading for pleasure time in school and younger children take these home to share with their family.
*What does whole class guiding reading look like?
All children read the same text which has been carefully selected. Children are exposed to a wide variety over the year.
Teachers model reading by 'thinking aloud' to show the process we go through as readers.
Effective discussion is paramount and allows for purposeful speaking and listening activities.
Three levels of questioning: Looking, Find a Clue and Have a Think.
Vocabulary understanding is key to comprehension. With a focus on vocabulary, our children broaden their own vocabulary and explore and explain the meaning of words in context.
The teaching and application of specific comprehension strategies.
Helpful Questions When Reading with your Child
Reading plays a vital role in the development and education of your child. At St Mary's we ensure that pupils have lots of opportunities to read in lots of different contexts. We continually strive to promote a love of reading through our 'Literature Works' programme to ensure that pupils are ready for the next stages in their learning.
Phonics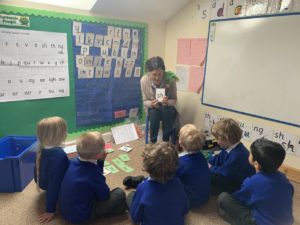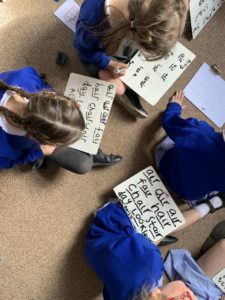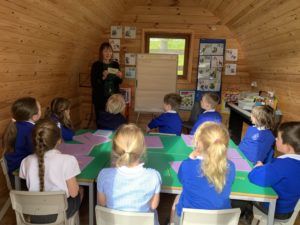 We use Read Write Inc. Phonics which is a complete synthetic phonics programme for 3 to 6 year olds that are learning to read and write and any older children who need 1:1 support.

This approach:
Allows children to decode fluently and comprehending quickly. The children read a book three times during the week which allows them to gain accuracy, fluency and a good understanding of the text.
Includes fiction and non-fiction books matched to their phonic knowledge.
Sets high expectations for all children. Assessments track every child's progress and 1:1 tutoring is put into place if a child needs extra support.
Participation for all. The style of teaching encourages all children to be fully involved and engaged for the whole of the session including partner practice or Fred in Your Head. No child is left behind.
Our nursery children begin to learn the first 30 Read Write Inc sounds and pictures in short, daily sessions. When pupils move into reception year, they continue to have phonics lessons daily and begin to read storybooks and non-fiction books that are closely matched to their developing phonic knowledge. The pupils make rapid progress due to the groupings and lively and interactive sessions. Throughout Reception and year 1, the children are assessed at the end of every half term and they are grouped according to the level they are working at. This ensures that teaching is always focused precisely on what pupils need and the pace of learning is fast. Tutoring is put into place if a child begins to struggle and accelerated progress is quickly made to help them to access their group phonics sessions. The phonics teachers have regular coaching to refine their skills and each session is delivered by a skilled phonics teacher.
Opportunities for reading
Pupils also read regularly in other areas of the curriculum and in other parts of the school day through:
Whole Class or Group Reading – Teachers work with pupils to teach specific and targeted reading skills in a book that is sufficiently challenging and sets high expectations for all children.
Reading Across the Curriculum – Pupils read a range of books linked to other areas of their learning and have regular whole class reading lessons to look at texts in more detail.
Read Aloud  (Shared Reading) – Books are read to pupils for them to hear good examples of reading aloud and to develop an enthusiasm for reading books themselves.  Class books are shared with pupils, where they read along with the teacher.
Here are some useful links to support our phonics teaching:
Helping reading a must see video:
https://www.ruthmiskin.com/en/find-out-more/parents/#lg=1&slide=3
When reading with your child – a must see video
https://www.ruthmiskin.com/en/find-out-more/parents/#lg=1&slide=5
We also build on the Initial Read Write Inc. phonics and use Read Write Inc. Spelling throughout our school right up to Year 6.
https://www.ruthmiskin.com/en/
Each year group has whole class reading sessions where we read together using Kindles and books so that we can all enjoy and learn from different texts.
What books do we read together? These books are a small selection of books read together.