There are various statutory assessments that take place in primary schools.  These take place in Year 1, Year 2 and in Year 6 with the assessments for Year 2 and 6 taking place in May.

SATS
The Year 6, KS2 SATS will begin throughout the week beginning 9th May 2016.
There have been various changes to the SATS in line with changes to the National Curriculum.  We are hosting information evenings for parents to help explain these and the KS2 meetings are at 3:30pm and 5:30pm on Thursday 25th February.
The following booklets and videos may also help you understand the changes.
Achieve KS1 Parent Guide final                 Achieve KS2 Parent Guide final
Please watch the following videos if you are a Year 2 or 6 parent:
KS1 SATS CHANGES         KS2 SATS CHANGES 
KS2 Spelling and Grammar Help              SATS Past Papers           Exemplar Papers
   CLICK TO EXPLORE PHONICS ACTIVITIES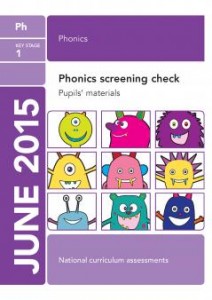 Year 1 Phonics Assessment
In June the Year 1 chidlren will all be required to have their phonics knowledge assessed. You may like to see examples of the assessments and support your child at home with sounds they need to learn.
The following video also highlights examples of previous children who have taking part in the assessments, highlighting the sounds and common errors.
Year 1 Video     Try here for a video of some of the sounds   Do you know what alien words are? Try this video here.
Why not have a practice and go through these pseudo words and real words. This may help in identifying sounds your child may find tricky and build confidence in the assessment. Going through and practicing sounds regularly will build your child's confidence in reading.
Year 1 Phonics Practice                    Download the document and practice        Year 1 Phonics Practice
Previous Assessments:             Phonics 2014                Phonics 2012             Phonics 2013
Phonics screening mock test 1           Phonics screening mock test 2              Phonics screening mock test 3                                Phonics screening mock test 4           Phonics screening mock test 5
The following link highlights all of the sounds the children are required to learn.
PHONICS PHASE 2-5                   Download the document (pdf)
phase 3 phonics                               phase 5 phonics powerpoint                           phases 2-5 phonics powerpoint
How do you know if your child is making progress?  Follow this link:   Progress in Phonics
BY THE END OF YEAR 2 WE EXPECT PUPILS TO BE ABLE TO READ THE FOLLOWING TRICKY WORDS:
First 100 Words       Next 200 Words