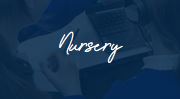 If you would like to receive a paper copy of our prospectus, please call our school office and provide them with your address and details. Alternatively you could explore this online prospectus.
Prospectus
---
St. Mary's CE Primary School Nursery Provision
Our Nursery Class offers full school day provision during term time, with Breakfast, Lunch Club and After School provision for parents who need additional childcare.
We run 2 x 3 hour sessions each day, staffed by our experienced Early Years teachers and teaching assistant team.
Our Nursery day
| | |
| --- | --- |
| Morning Session | 8.45am – 11.45am |
| Lunch Club | 11.45am – 12.30pm or 1.00pm depending on attendance in the afternoon. |
| Afternoon Session | 12.30pm – 3.30pm |
Session times
---
Breakfast Club
Breakfast Club runs in the school hall from 7.45am – 8.45am each morning. Our Club Leader is Miss Robinson who also works as our Nursery Teaching Assistant and Lunch Club Leader. Children can be dropped off with a member of staff who will remain with them throughout the morning. For children who arrive at school before 8am breakfast can be provided for a small additional charge. We have a choice of cereals, yoghurt, toast, pancakes and fruit. Our Breakfast Club services pupils throughout the school from Nursery up to Year 6, which our younger pupils enjoy. Children can choose from a variety of indoor activities before they are taken to the Nursery Classroom to join their classmates.
After School Club
After School Club runs in the school hall until 6pm each afternoon. Children who attend After School Club are usually found outside engaged in activities, unless the weather is really terrible and forces them inside. We run craft, science and baking activities and work hard to ensure there is something to interest all of the children who attend. We provide a snack early on in the session, typically bagels or toast and fruit, and the children who are stay later are offered a further small snack to keep energy levels up as it gets close to tea time. The children who attend on Fridays are treated to pizza!
Charges
Charges for Extended Services and nursery sessions are detailed on the booking forms.
Invoices are raised half termly for any paid provision. They are sent out 4 weeks before the end of the half term with the expectation that they are paid in full by the last day of the half term. You will receive a paper invoice that shows the breakdown of your charges and will be sent a text message and email inviting you to make payment on School Money, our online payment provider. Childcare voucher payments, including the Government scheme are accepted.
If you have any questions about our Nursery, 30 hour eligibility, charges or Extended Services please contact Mrs Billington in the school office who will be happy to help. (015242 71334)
Booking Forms
---