Staff

- Mrs E Hutchinson, BA (Hons)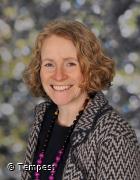 Mrs E Hutchinson, BA (Hons)
I have worked at St. Mary's for sixteen years and have taught in Nursery for the last 3 years. I love working in Nursery, the children make me smile with their enthusiasm, every day is different and you never know which way the children are going to take the learning.
I love being outside and am passionate about teaching the children to develop a love of nature and to care for and look after the world around them. I am currently training as a Forest School leader.
In my spare time I like spending time with my family, canoeing, walking and being in the forest.