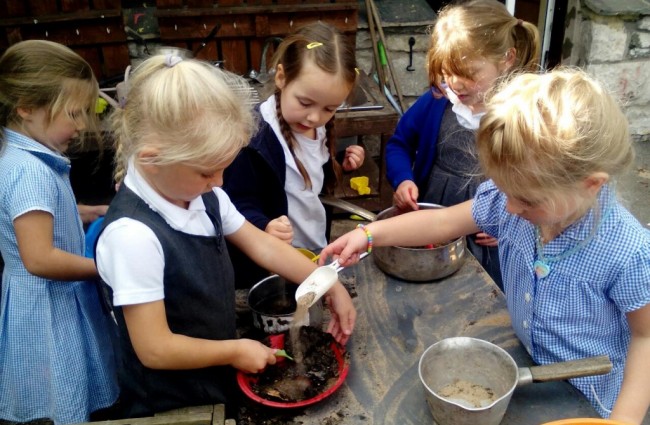 In Reception, we have access to the outdoor area every day – come rain or shine!  As Early Years practitioners we understand lots of children learn best outside.
Outside learning allows children the freedom to explore and play freely.  It has huge benefits for their mental health, physical health and allows them to be curious, explore and experiment in an open ended way.
Lots of mathematical opportunities arise from the mud kitchen including measuring, filling and emptying to explore capacity.
Here the girls are having a fantastic time, imaginatively playing and using endless role play possibilities, from making wiggly worm soup or serving customers chocolate cake!  These opportunities allow language and communication to flow, this might include descriptive words, scientific questioning and exploration or even story telling!  There is always an Early Years practitioner around to interact to support play, possibly by introducing a different resources or a new word or even narrate the play!
Most of us also just love the sensory experience of playing in the mud and combining different textures and sometimes even scents from our herb garden.